Interested in building a website?
I can help you.
Building a website is nothing like it was when I first started almost 10 years ago. Today, there are services and platforms that allow anyone to create a professional looking site with ease. Read on to learn how you can do this.
The Seven Most Important Aspects of a Website
Most clients who are interested in having a website built for them or their business have no idea there's more to it than just getting a name and posting their information online. I used to be the same way.
When I started building websites, I quickly learned there are several important things required to build a successful website. The two most obvious are a domain name and hosting. The domain name is your web address or web presence. Hosting is what stores your site and allows it to load for users. The five other necessary aspects are as follows;
Speed of load time
Professional Looking Design
Ease of navigation
Uses a Content Management System (CMS)
Quality Content
These last five things are what determine your website's success and profitability. To achieve them, it is best to utilize a framework that simplifies the process. I highly recommend WordPress for this (fill out the box below to build a free WordPress website right now).

Why WordPress is so important
You've likely heard of WordPress, as it is the world's most used website framework. Even this site was built with WordPress.
When I started building websites a decade ago, you had to do everything by hand. You absolutely had to have programming knowledge to be successful. Things have changed dramatically since then. Thanks to Content Management Systems like WordPress, anyone can build a successful, profitable website. Why? Because WordPress:
is extremely easy to install and set-up (just a click of a button)
requires NO programming knowledge
includes over 1,400 website templates
includes over 10,000 one-click add-ons features
includes unlimited help and support from with in the community
Today, I only use WordPress to build websites for myself and clients. Keep reading to learn how you can get your own WordPress website and build it in about five minutes.
Build a WordPress website for FREE in 5 minutes
If you're like me, you're a visual learner. Even the simplest of tasks are easier for me to accomplish when I have a visual. To help others like me, I've linked a video below showing exactly how I built this site in 30 seconds.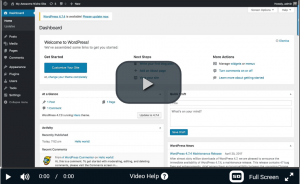 WATCH: How to build a Website in 30 seconds
As mentioned earlier, I can help you build a website, but only if you're willing to take action. If you want to build your own website in five minutes,  take these 3 steps:
Step One: Start building your website for FREE at SiteRubix.com
Step Two: Create a your account for $0
Step Three: You gain access to TWO FREE websites, plus complete training on how to do so
After Step Three you will have your own, fully functional WordPress website on the World Wide Web.
Need help?
Just ask! If you have any questions about anything I've discussed here, simply leave a comment below or contact me via my profile at Wealthy Affiliate. My username is JaemiO.